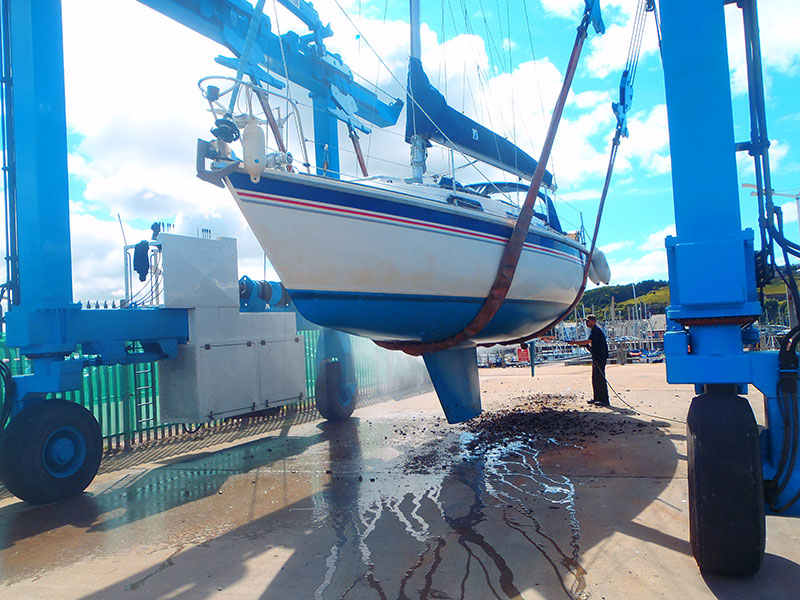 The
Boatyard
Whitehaven Marina has one of the most modern boatyard facilities on the North West coast of England, with a highly professionally trained team focused on customer service.

The 45 tonne boat hoist is located within the locked harbour which means lifting and launching are not affected by tidal conditions. The external hard standing area is secure and serviced with water and electricity, as well as used oil disposal facilities.

We operate an Open Yard Policy which allows our customers to carry out work themselves or arrange for preferred contractors to do so, as long as they adhere to our Health and Safety Policy.

Available on a short or longer term basis, Whitehaven Boatshed offers state of the art undercover facilities for any type of maintenance or refit. As well as providing you with a fantastic facility to work on your boat, the shed allows the boat yard team to Coppercoat, polish, antifoul, varnish and paint vessels in a warm, dry shed.

The Whitehaven boatyard is the perfect location to carry out winter maintenance in a safe and secure environment.
45 tonne Wise Travel Hoist
Jib crane for masts & engines up to 1 tonne
Excellent security - 24 hour CCTV coverage throughout the locked compound
Over 200 square metres of fully serviced undercover storage
Fully serviced hard standing with 240v power, 110v power and fresh water
Towing vessels to & from berths
Open yard policy
Mast storage area
Antifouling, polishing, painting, anode renewal & coppercoating packages available
Antifoul removal services available
Engineering & marine electrician services available on site

For further information or to book boatyard services contact us.